When I went to sleep Saturday night after consuming a few beers and that crazy potato I was one happy camper. The general outlook for Sunday was totally positive with a 100% chance of sleeping late followed by moderate writing and a small motorcycle ride from Tellico Plains to Deals Gap and back. My sleep plans were rudely interrupted when, for the first time in memory, my cell phone alarm went off. This damn thing hasn't worked in two years even though it is always on! Why must it go off right now? Who wakes up at 7AM on Sunday! It turns out I do. I wandered off to figure out what to do with myself. Coffee came first as it always must. After that I said goodbye to the other overnight guests at Hunt's. Then I went to hide out and write for 3 hours before taking off on my ride.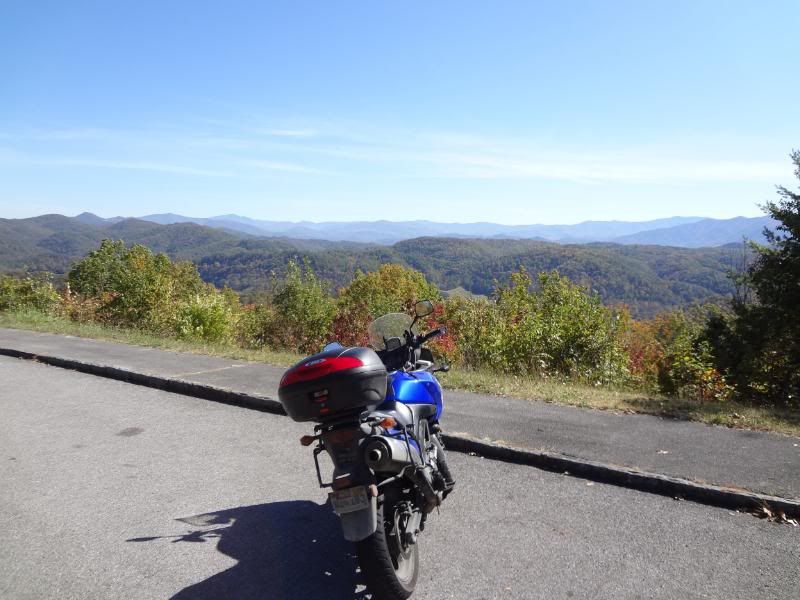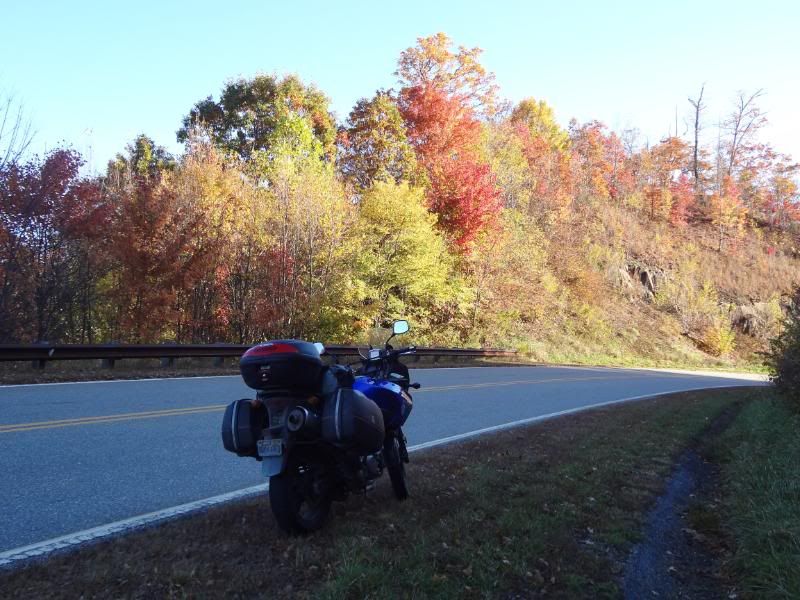 The plan was to ride as lazily as possible through Smokey Mountain National Park before hitting the Deals Gap area of route 129. This section of road is better known as The Dragon. I wanted the ride to start off relaxed so that I would be in a slow frame of mind at 4pm when I approached the northern part of Deals Gap. This plan was intended to keep me from going too fast. The deep calm I had achieved after my jaunt through RMNP disappeared when I found that, except for one cruiser and the usual photographers on DG, I was all alone. The gentleman on the cruiser pulled over when I approached him and I was in the perfect position to enjoy this road that offers over 300 curves in 11 miles. Let's just say I forgot to go slow. After covering the first 1/3 of the available 11 miles I pulled over to take a picture and to reflect on how lucky I was at this moment. Minutes later a blue Mini cooper loaded with giggling people blasted past me hitting the apex of the turn in the wrong lane. Good thing there wasn't a motorcycle traveling in the opposite direction. A few seconds later Mr. cruiser putted by. I was ready to ride but I decided to wait either 3 minutes or until the next vehicle approached from behind me, whichever came first. 3 minutes came and went with no cars in either direction; I took my cue and rode on. The idea here was to avoid catching either the bike or the car, giving me a clear road to enjoy. The only thought I could keep in my head throughout this short, mind altering stretch of pavement was "my bike has never worked this well! This new suspension makes me feel like I actually know how to ride." Suddenly Mr. blue mini passed me going the other way and, thankfully, not in my lane this time. Now I only had to worry about cruiser guy. I caught him 3 corners later after I royally screwed up a decreasing radius turn. I decided I would go back and practice that turn a few times so that I would give Mr. cruiser time to get away from me. After teaching myself a lesson that took 3 or 4 tries I rode on blissfully alone for the remainder of the road. I have never been happier, or more worn out, after riding such a short section of pavement. I expected to be stuck in some kind of motorcycle parade on this road after hearing stories that friends had told. I guess it was my lucky day. I headed directly back to Tellico Plains via a high speed burn over the Cherohala to finish my day. When I dismounted my bike I examined my front and rear tire. For years I have been wondering how I could use that last 1/8" of rubber on the edges of the tire. To my great satisfaction the edges of my front and rear tire were scraped and worn just a little. I finally got my money's worth out of a set of tires and it only took 20 years of practice and $800 worth of suspension parts! I sat outside my cabin reveling in my glory with a calzone and some more Yuengling. Minutes after I had decided that life was perfect I received a brutal shift in perspective as I learned of Marco Simoncellis death. As I thought about this I flashed back to a conversation in Austin on the silliness of shedding tears about the death of someone you don't know. Like Dieter said the day before "It's all about the beer Ray. Well, that and everything else."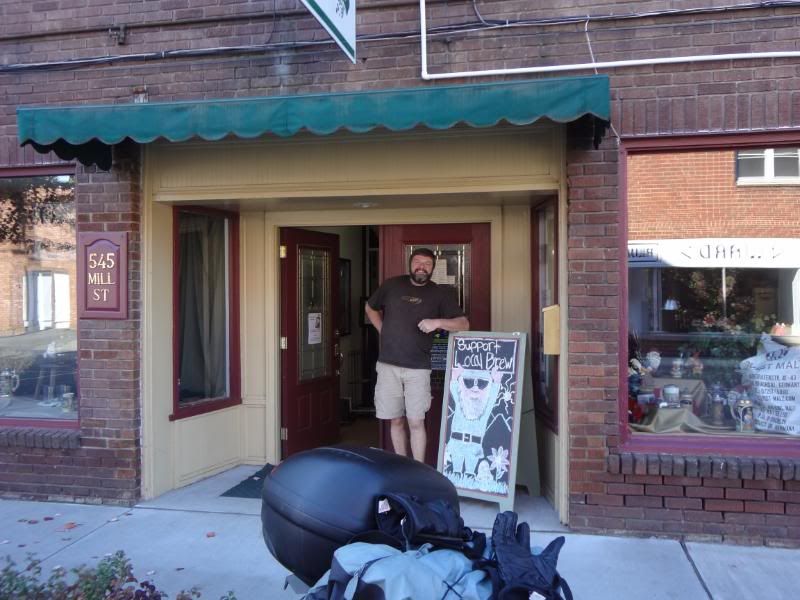 Heinzelmannchen –

I will paraphrase what I was told by Dieter. Heinzelmannchen are benevolent Gnomes who aid production workers such as brewers, blacksmiths etc…. They clean the shops and fix the tools. Provided you do not see them they remain helpful. If you harass them or seek they will no longer help and may even cause harm. Heinzelmannchen Brewery is owned and operated by Dieter and his wife Sheryl. This 8 year old brewery is located in the picturesque valley town on Sylva, NC only a few miles from the Blue Ridge Parkway.



Brewing with Dieter -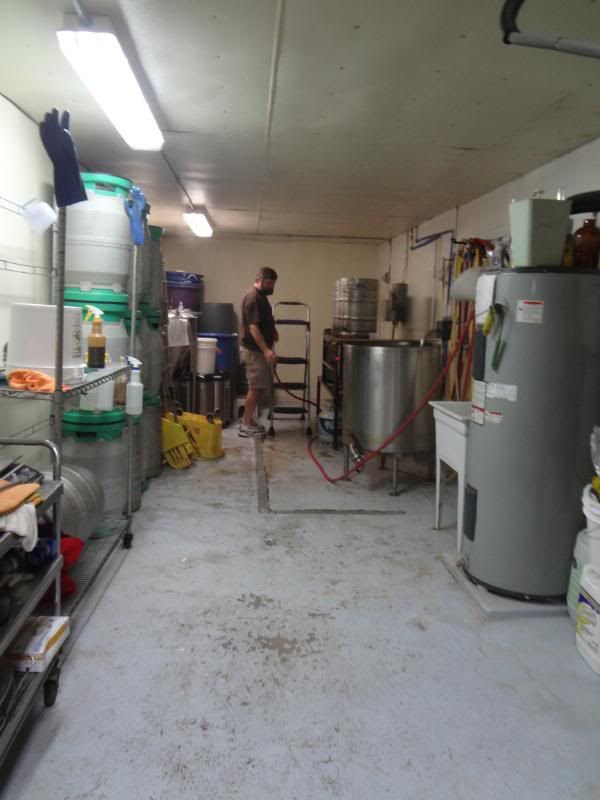 Dieter is a large man with an easy genuine smile. He has an accent that vacillates between an entirely understandable German one and a slightly southern one, and even the absence of an accent at times. I am unsure of why my initial feeling was intimidation when we spoke on the phone. When he actually came out to greet me as I was still removing my helmet and gear I felt like I was being welcomed by a family member. As I entered the brewery I was given the rundown on everything that was going to happen that day and in the days to come. I noticed the brewery was small and I wondered where the beer was made. Worry crept in – Did I end up in a fake brewery? Why wasn't it scorching hot in this small space? Where were the mash smells? Why was there no fermentation aroma? Then I noticed the SABCO system steaming away in the bomb proof back room; if the two 10Bbl fermenters had been snakes they would have bit me. Still mildly confused about how a 1/2 Bbl system worked with 10Bbl fermenters I uttered a sigh of relief. During this internal struggle Dieter was talking about a Bar and Beverage management class from West Carolina University was coming by later that day. I asked a few questions and excused myself to grab some coffee and quiche at the local bakery.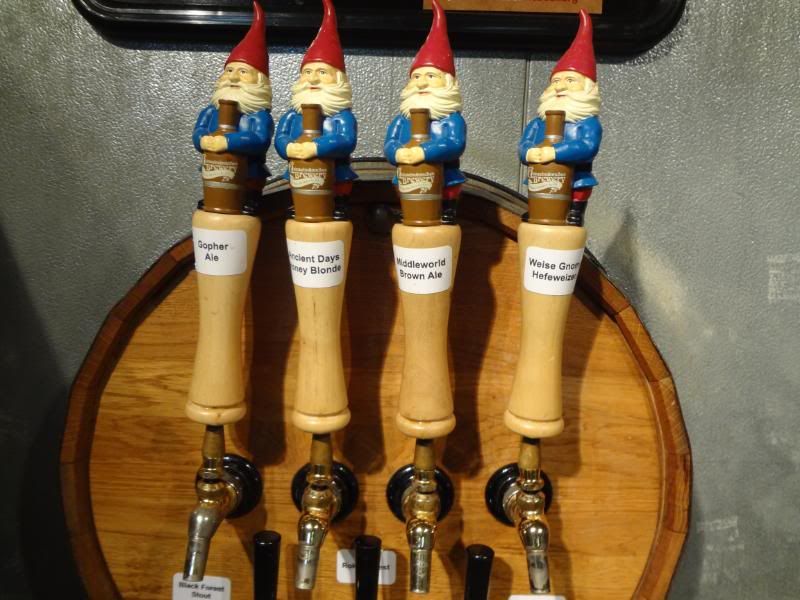 After returning with coffee I began asking Dieter questions about his brewery and his involvement in educating area residents on the benefits of craft beer. Over the last 3 years, In an effort to mold the next generation of bar and restaurant owners and managers, Dieter has been giving time to West Carolina U's one semester bar and beverage course. He has the students drop in to the brewery to explain the place craft beer has in the food world. In addition to explaining that beer is an excellent beverage choice to accentuate a meal Dieter has a chance to show interested students the brewing process. This in brewery explanation of beer being made, while watching beer being made, should help the students gain a better understanding of what beer is while also sparking more interest in beer styles. As we talked about the brewery I learned that Heinzelmannchen was primarily an extract brewery. I have to say I was a little thrown by this; I have long held misconceptions about using extract to make beer, I was about to be re educated. What Extract brewery means is this: Dieter has an outside source produce and condense wort for him, using his recipes of course, they then ship the condensed wort to him so that he may re-hydrate it. Dieter does a mini mash to add mouthfeel and additional complexity to his beers. I have never been in a production extract brewery and I was excited (and admittedly nervous) about the beers. Lucky for me Dieter was eager to share. After having a few very nice samples I was educated. I now see extract beer can be very good beer and I learned that Dieters excellent specialty beers are all made on the 15 gallon SABCO in house. There is a plan to start using the brew system that Dieter is slowly piecing together (as money comes in) to move all wort production in house. This is a challenge both monetarily and due to North Carolina's somewhat prohibitive beer and brewery laws. In talking with Dieter further I learned that most of the beer from Hienzelmannchen brewery is sold in house with the bulk of off premise sales coming from "beer catering". Beer catering includes a portable draft system packed with dry ice, and your choice of Heinzelmannchen beer which is delivered to your event for a fee. With this areas high level of second homes owned by retirees and the eternally party ready college students, the stocked kegorator delivery is an amazing service to offer.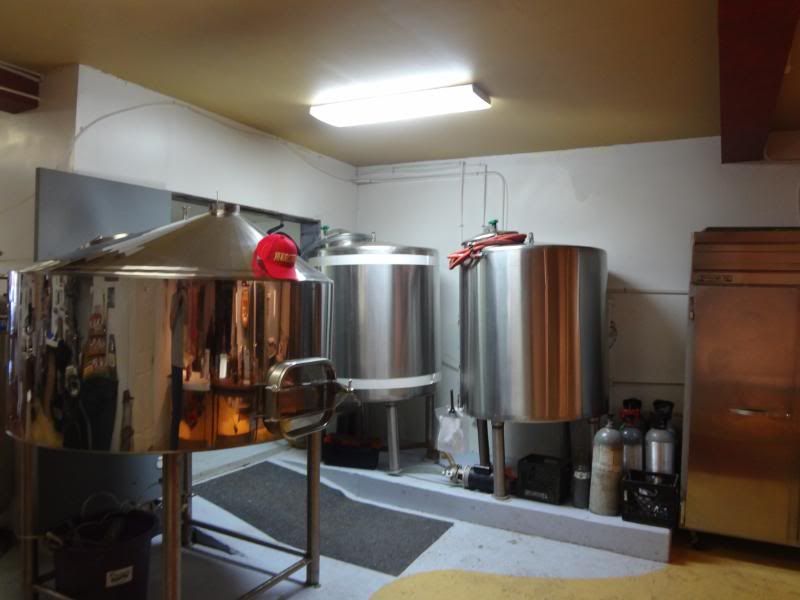 The future awaits. A 7Bbl mash tun is on site for future use.
I had an excellent time hanging out with, and trying to help, Dieter. Both of us being talkative, opinionated people made for hours of compelling conversation. Every time a customer would come in he would go to serve them and I would be left to handle his brew. I learned that Dieter is a Marine (familiarity leads me to believe that there is no such thing as an Ex Marine) and retired nurse. I never cease to be astounded with the varying backgrounds in the brewing fraternity. When the brewery was starting Dieter was pulling three 12 hour shifts a week at the local hospital and using the rest of his hours on his brewery doing as much of the building, plumbing and electrical as he was able. When asked about how this affected his sleep and sanity his response was "every goal in life is all in how bad you want it." Eventually Dieter was able to make the transition from nurse/brewer to full time brewer.
Dieters start in brewing was inspired by a lack of great beer in his community. He began home brewing to fill his needs. After sharing his beer with family and friends who told him he should start a brewery he finally did. 8 years later Dieter continues to focus on making beer that pairs with food. There are no "hop bombs" on his list, no ultra high alcohol anything. just relatively simple, well made beers that leave you wanting another taste. This dedication to drinkable beer should keep customers coming back and when Dieter moves on to his planned production facility in two years it should earn his beer new fans.
"It's all in how bad you want it" or The most hardcore brewer in America -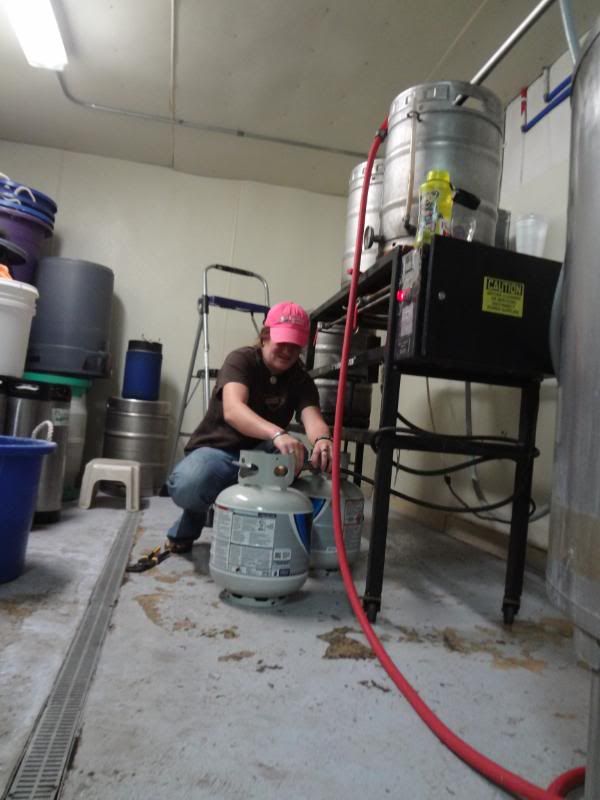 Meet Hannah. No, seriously go meet her. She has been Dieters assistant brewer since her hospitality management class came through the brewery two years ago. Hannah walked in around noon to take over the brewing and to do some educating with the latest class passing through the brewery. I had a chance to talk to her before Dieter and I stepped out to lunch. After mentioning what I was up to and then getting her story she offered me a place to stay. She said "This summer I lived in a tent on the edge of an organic farm in Cullowhee, NC. If you want to stay there, I'm not using it and you're welcome to it." I was happy to be offered a free place to stay after spending the morning worrying about that issue. In the evening when I showed up at the farm and met Curt, the proprietor, I was invited to join him and a group of his friends for a night out getting beers and food. Only after the outing, laying in the tent slipping into a food coma, was I struck by what was happening. I was astounded. I was about to fall asleep in a tent where a brewer lived so that she could brew beer for a living! In my mind this dedication makes Hannah the hardest brewer in the US. I wouldn't even consider living in a tent so that I could have the job I love. Not only would I not do that now, I wouldn't have done it when I started my career. Meeting someone with this level of addiction to the pursuit of creating beer is serves as a reminder of why the craft beer movement continues to inspire people. The individuals involved are dedicated to their craft to the point of unhealthy obsession.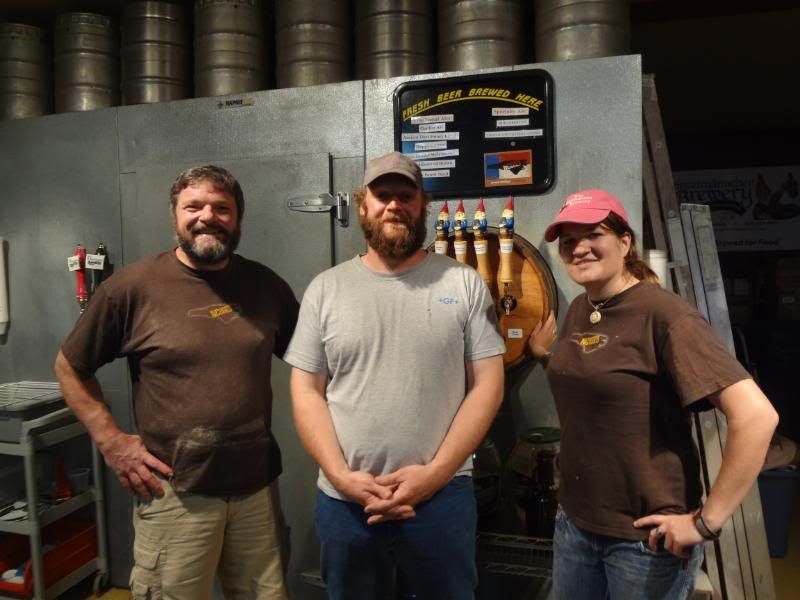 When I woke up the following morning I decided I wasn't going to see any brewery that inspired me more than this one did. If there is an ideal brewery for the trip I am on it is the Heinzelmannchen brewery. With it's location in the midst of what may be the finest motorcycling on the east coast and it's team of beer lovers it was a reaffirmation of everything I was looking for on day one of this trip. I left the farm knowing that I would seek out no other breweries in an attempt to sell my adventure. I will simply enjoy every mile of the stunning Blue Ridge Parkway and the back roads of Virginia.
The next stop will be with Mike Roy at Franklin's general store and brewery in Hyattsville, MD. That will be followed by NYC for a Ween concert. After that I will be going directly home. I will be flat broke and unemployed when I arrive. Luckily Dieters voice is in my head reminding me that It's all about the beer, but it's also about everything else.