I have to be honest here. I had no idea this brewery existed. Pete mentioned he really liked their beer. Every beer store was out of all available products. "It sells too fast!" was the reason given each time. I knew these guys must be making something exciting. I was determined to find out more. I emailed the brewery in an attempt to gain access for a day. Luck was on my side, Mike (from ABW) contacted me and welcomed me to check out the brewery.
Good luck finding this place without either local knowledge or a gps. It is tough! I got my failing gps to work just well enough to put me in the general brewery area. I then spent 20 minutes circling this industrial park. Finally I pulled over to call and get a clue and there I was. Ok. Lets see what happens at Austin Beerworks.
Show me your cans! -
Austin Beerworks is a can and keg only brewery with no current plan of doing a bottled product. This makes a lot of sense given the recent increased availability of can fillers made for small brewers. It also makes sense as a means to reduce shipping costs. Cans are very light. Cans also mean no labeler to purchase and maintain. If all that weren't enough - cans are damn cool.
When I walked in I was greeted with equal parts enthusiasm and confusion. It seems that Chance (the very tall guy) thought I was a "Viking" brewer (as opposed to Biking). This made me a little disappointed too. I really missed a chance to travel the country dressed as a viking. Oh well, maybe next time.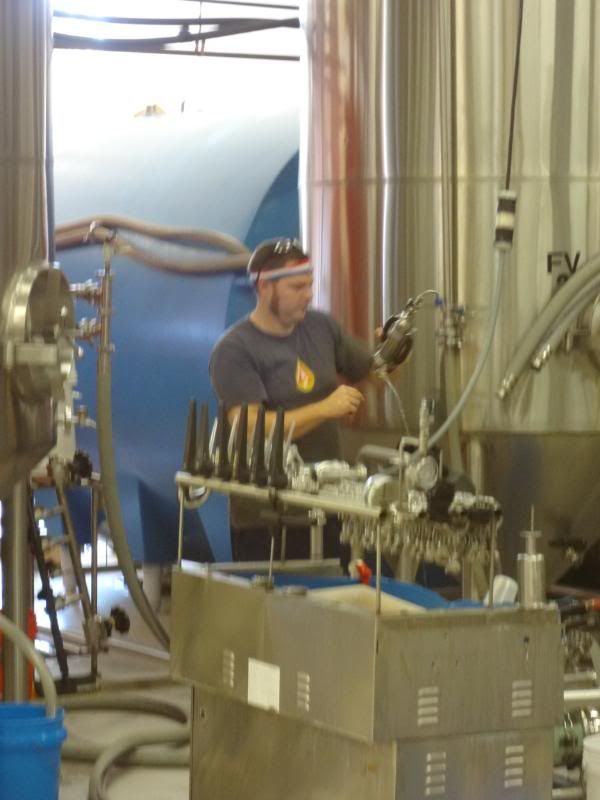 Adam is another one of the owner/brewers. His normal duties are that of head cellarman. A cellarman is the person who watches over the beer in the cellar, from tank cleaning and sanitizing to filtration of conditioned beer. Brewing is not what Adam normally finds himself doing. In fact, this was the first time he had brewed on this particular system. It gave us a chance to talk about how he and the brew setup got here. Most brewers come from other careers after realizing that all other jobs are less fun than brewing beer. Adam comes to brewing from a background in forensic science. He also has a masters in criminal justice. After working in his field of study for a few years, eventually realizing making beer is better than putting people in jail, he decided to turn his love of beer and mechanical work into a career in brewing. Adam's mechanical abilities came in handy while building Austin Beer Works. The brewhouse they are using came from Maritime Pacific Brewing in Seattle. While the brew house was in the storage lot, waiting to be sold, someone decided to steal most of the process piping. This gave Adam and the gang the chance to get to know their system and construct process piping from scratch. While working on their mash tun they noticed that it only had one outlet at the bottom. During the build of the brewery they added 3 more outlets to aid in a more even runoff. This adaptation allows them to achieve 85% brewhouse efficiency. After I mentioned how tough it is to find Austin Beerworks cans around town Adam said "We were expecting to make and sell only about 400Bbl this year, due to our quick popularity we might do just over 1000Bbl now." After trying each of their beers it is not hard to see why they are so popular. After talking for awhile longer I left Adam to his brewing and cellar work. I walked to the packaging area, something that comes naturally to me.
What we have here is a two head can filler. When operated by Chance, Colin and Tom it can pump out a whopping 8 cans per minute. The cans are purged, filled, and then lidded. This is a slow process, one which is done 4 to 5 days a week at ABW. I joined the guys for my remaining 3 or 4 hours of time. We spent a fair amount of time examining why I wasn't a viking, and just how disappointing that was for everyone. We also did the normal dirty brewer talk with many fantastic "show me your - and give it to me in the - can references." I am sure this makes sense to everyone?
The next step comes when you buy this beer and are struck dumb with wonder and ask "How is this beer so good?"
I think the answer in that lies partially in the diverse backgrounds of the 4 person team that started the brewery. The rest comes from a brewery wide love of beer and a desire to be the best at what they are doing.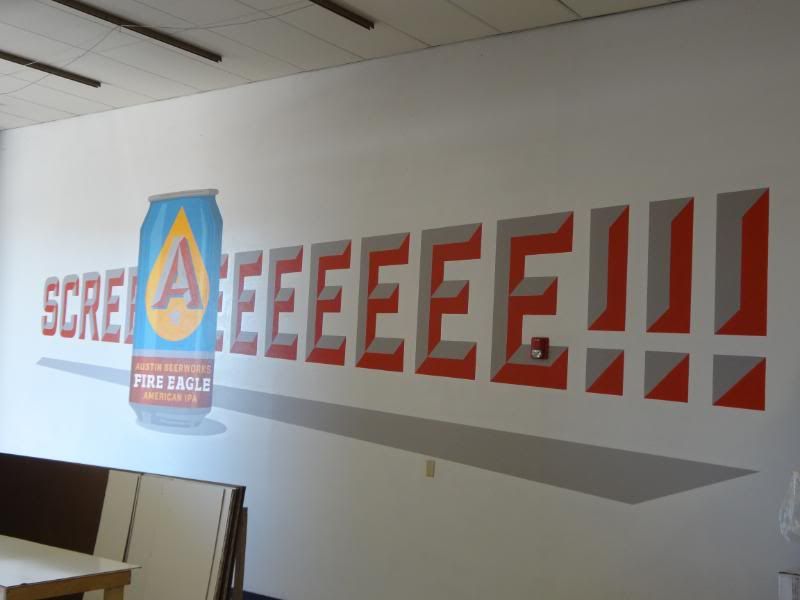 When I was about ready to leave I tried a fresh Fire Eagle IPA. As I sipped my can I noticed this awesome propaganda art near the loading dock. Damn right Screeeeeeeee! With and IPA of this caliber ABW are sure to be very successful.
"What the shit is a Fire Eagle?" you ask. Better not to wonder. Fire Eagles are known to be telepathic and will find and incinerate whoever thinks of them. Luckily for us the brewers at Austin Beerworks take risks. They gathered mental energy and bravely dreamed of a mature Fire Eagle, and act which will summon the bird to the home of the dreamer. The team, dressed in fireproof dreamsuits, then captured and sedated the specimen. After distilling this rare creatures essence to its basest elements they released him and set forth on a taste research mission. After months of hard work they came to the conclusion that Fire Eagles are dangerously delicious! One of the research panel is currently in flavor rehab due to a severe addiction to taste. A few months after releasing the Fire Eagle the bird returned and demanded to be shown some respect as payment for the injustices it was made to suffer. This led the brewers of Austin Beerworks to create a beer that would pay homage to the Fire Eagle for generations to come. This IPA is bold and in your face. The hops come close to setting your tongue aflame just as the malt swoops in to save the day. This IPA is one that I would be willing to ride back to Austin for.
Austin Beerworks
make a claim they are brewers hell bent on excellence. I would have to say that they are demonstrating that quite effectively.
Best of luck to Austin Beerworks. Thanks for a great day.