During all of the fun in Portland I found myself compelled to ask each and every brewpub employee about my chances of working there for a day. This process is becoming exhausting and I'm positive my other half was annoyed, knowing what was coming each time we walked into a new place. I find myself considering no more attempts at unfamiliar breweries. This will save time and money as I will base where I stay on my level of exhaustion rather than a potential callback from a new brewery conquest. Luckily for me there are people like Beck in the brewing world.
Cascade
Brewing barrel house involves filling, analyzing, cataloging, tasting, and eventually blending a wide array of barrel aged ales aging in nearly 400 barrels in the cellar area adjacent to the pub. Beck is the person who handles a large part of the work done to ensure you will enjoy your beer each time you visit Cascade. His employment at Cascade has included some breaks as he is also involved in the construction trade. During one of his breaks from brewing he helped build, plumb, and insulate the barrel house where he now works. To say he is familiar with his surroundings would be most accurate.
I met Beck after trying to pitch my project to the pub manager Preston (who I neglected to photograph) and being turned Becks way. We had a nice discussion about the amazing "Bourbonic Plague" I was drinking. After tasting all of the sour cherry and bourbon glory I mistakenly decided it was a beer with Brettanomyces rather than Lactobacillus. This started a very informative comaprative discussion of the merits of the two acid producing organisms commonly used to re ferment beers.
After discussing the amazing beers of CBBH with Beck we decided that it would be ok if I joined him for a super chill Monday morning. This would most likely consist of a simple hang out information session. I was cool with that. Monday rolled around and so did I. The 10am start gave me time to write and relax in my Hotel before I had to pack up and leave.
The process of obtaining the apricot kernels is not a simple one. The pits of the apricot are first cracked in a dough roller. Following the cracking of the pits the seeds must be separated from the mostly unwanted surrounding material. The kernels of the apricot are then dried and crushed for use in the barrel aging of a blonde ale. This is blended with another beer which is aged over raspberries to create a reddish colored sour ale that is absolutely terrific. Beck says it takes at least an entire day to obtain the amount of apricot kernels necessary for this process.
The building in which Cascade Barrel house is located is on what is called produce row. It has been a produce distribution center and a cheese warehouse. It is now being used to house some of the most creative and well made beers I have ever tasted. The food menu is small and seems relatively adventurous while sticking to a theme of "food that pairs well with the house beers". After I decided it was time to stop slowing Beck's progress for the day I moved into the dining area to order up a ham sandwich and a Gose (Go zuh). The Gose is a style of beer that originated in Leipzig Germany. It is comprised of 50% malted wheat, is made with very saline water, and often contains coriander and lemon tartness. The tartness is due to Lactobacillus. The style is generally moderate in alcohol, rarely exceeding the high 4% range. As for the ham sandwich it was a perfect accompaniment to the Gose.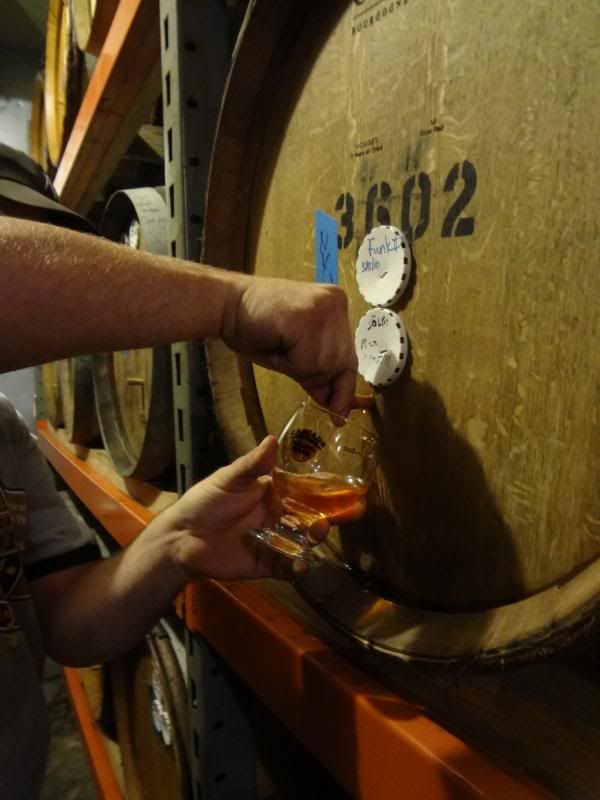 Thanks to Beck and Preston and the whole Cascade crew for allowing me to spend a day with them. The beers are a must have if you are in Portland, OR. Be sure to check out the vintage produce scale in the entry way of the pub. There are not many left of it's kind. While in Portland it is a must to arrive hungry and hit each and every food truck in the downtown area.
Eat a sandwich for god's sake!