3 weeks ago, after I got a new tire, I noticed my bike was handling like complete crap. The rear end seemed to be bouncing and sliding through corners. This gave me some possibilities to examine. Perhaps I have become an incredibly fast rider and I was out riding the abilities of my rear tire? Doubtful, I am not riding a bike powerful enough to brake the rear tire's grip in a dry road surface; even if I were skilled enough to ride through a corner under these conditions my bike's motor is not up to the task. Maybe my shock is going bad? In addition to the odd feeling while cornering there is some bottoming out happening in bumpy corners. Also, when I look down at the rear swingarm while riding I noticed a lot more bouncing than normal. Is the rear tire complete junk? While this may be the issue, I have had junk tires in the past and never felt like my bike had a new joint in the middle of it's frame as a result. I am going with the rear shock as the culprit.
Before riding to Red Lodge I spent time in West Yellowstone with some friends. While doing some routine chain maintenance I noticed my tire was alarmingly worn after only 3000 miles of use. The rear tire always wears out much faster than the front given that it is the tire that applies the engines power to the road, but on a small displacement bike 5000 - 8000 miles is the life expectancy of the rear tire. I actually wondered if I would make it to Red Lodge without problems. I hoped that there would be a place to buy a suitable tire at my destination. I also hoped that a new tire would last until Cedar City, UT where my replacement shock would be waiting for me.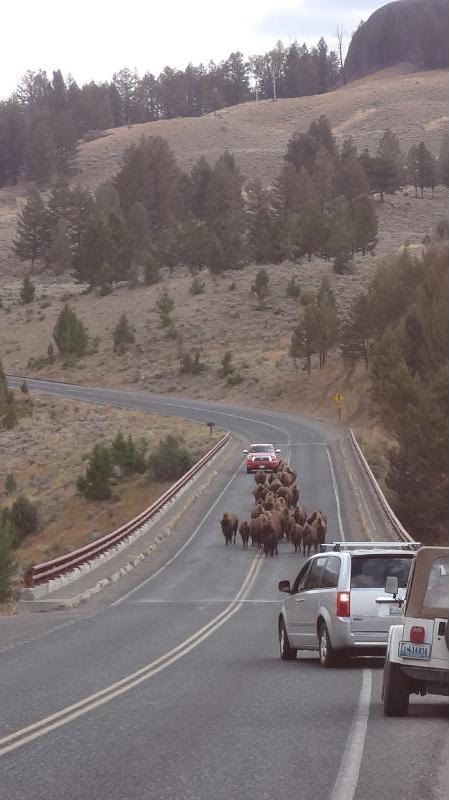 On my way across the Beartooth Pass from West Yellowstone to Red Lodge I found myself in a strange situation. Most of us have never been stampeded by Bison at any time and I am no exception. As I approached this bridge I noticed a dozen cars stopped in front of me. It took a moment to realize that there was a herd of buffalo using the bridge to cross the river. I was slightly nervous to say the least. What should I do! Thoughts of retreat were the first to come to mind. What if they think I am an enemy of some sort? What if one of them breaks rank to discipline me for standing in their way? I decided photography would relax me and act as distraction from my potential dismemberment at the hooves of this herd. I got a few great shots of them moving by me. As they passed I realized I was of no consequence to them on this day. An awesome wave of relief washed over me as they passed me by.
After this experience my tire never crossed my mind another time as I traversed the Beartooth pass. I kept a relatively slow pace so that I might conserve it's few remaining plies of rubber until I reached the other side. The ride was rewarding. This road goes up to just over 11,000 feet offering some stunning scenery. There is still snow on the ground from last winter!
The camera I have wasn't up to the task of accurately representing the beauty of this landscape. I felt as if I was on another planet at times. This alien feeling was due in large part to the lack of cars on the road. I am sure I passed this way mere days before it will be closed for the season. It is surely impassable in the winter?
As I pulled away from this rewarding view my thoughts returned to exactly what it is I am doing on this trip. It seems like a dream at times. Every day I have worked up to this point 1/3 of my concentration has been devoted to my next motorcycle trip. Working hard enough to raise the money necessary to check out for a period of time to do a trip like this is the primary reason I keep a job. There is no other reason to work. This happiness is fleeting, as I descend into Red Lodge thoughts return to the less sublime. Concerns of my tire and the money I will be spending just to make my bike useable become all consuming.
As I pull into town I see a gigantic billboard for
Bone Daddy's Custom Cycles
. Surely they will have a tire for me? I saw another place in town but they were closed for the season. Bone Daddy's, luckily for me, was not. Within the space that they occupy there is another shop named Hog Wild Service and Repair. It is owned and operated by Sonny Kuntz. Sonny was just returning from lunch as I was making my concerns known to the staff of Bone Daddy's. Sonny said he could fix me up and he wouldn't mind if I removed my rear wheel in an effort to save a buck or two. I set about the removal process. I had purchased a center stand earlier in the trip to help in a situation like this. A center stand lifts the motorcycle from the center and raises the rear tire off of the ground. This makes rear tire removal (in most instances) easy for a mechanically able rider. My last tire was $100 more expensive than it needed to be due to my inability to remove the wheel myself. I would not make that mistake again. With the rear tire removed and handed off to Sonny I waited patiently for the new one to be spooned on while we talked about the local roads. The job was done in short order and I was on my way. Sonny showed me how trashed my rear tire was and wished me safe travels, adding that he hoped this tire would last longer. I hoped so too. I was only a few days from a new rear shock, an item which is outrageously expensive, and I didn't want to buy another tire as well.
I headed off to the local brewery to see if I could set up a day there. We all know how that went. I also got myself a camp spot in the backyard of the Alpine Inn.
I stopped for the night in Heber, UT. I have rarely arrived at the finish of a ride so mentally and physically exhausted. The cold really took it's toll on me I guess. I retreated to my room and then had dinner at The Angry Bull Restaurant and Saloon. They had nice food and local beers, these are two major requirements for me. After dinner I walked back to my room and passed out. I snapped a photo of the distant scenery the next morning before heading out of town. The views in Utah are something to see, I knew I was going into some serious flatlands for a time between here and the east coast so I savored every mile of this beautiful landscape.
I realized I was going to need some long underwear for the rest of this trip. I knew I might eventually but I was unwilling to carry the extra bulk during August and September when it was less necessary. I stopped at a store on the edge of town and got what I needed before moving on. My bike was now averaging a shadow of it's former gas mileage. I expect 250 miles out of each tank unless I ride hard or am very overloaded. Lately my tank was on E at 145-165! This is most likely due to the rear tire constantly losing contact with the pavement. This bouncing makes for a very inefficient means of moving 700 pounds of rider, bike and gear forward. It also means it takes much longer to arrive anywhere due to added fuel stops. It was unbearably cold again, somewhere in the mid to low 30's, I was resigned to taking the highway to make time. The constant 70 mph speed added to my discomfort. At 10am I was definitely dead set on heated gloves. As I was traveling south on I-15 I noticed Rocky Mountain ATV out of the corner of my eye. I pulled a move that only a person with Mass plates can do without a shred of remorse - the dreaded 3 lane cross traffic exit. With a swarm of angry Mormons left in my wake I departed the highway knowing what awaited me within the heated confines of this motorcycle/atv superstore. I was unable to contain my excitement as the counter girl told me that she did have the gloves I wanted. At long last my hands would be comfortable. I dropped the credit card, picked up the gloves, and left the building to enter a world that could no longer chill me. Newly aware of feeling in my hands I was able to actually concentrate on the road. The rest of the ride to Cedar City didn't take long. Around 1pm I found myself in the parking lot of the UPS store with new shocks and fork springs in hand. From here I darted across town to see if I would be able to use a parking lot at
D&P Performance
to do my shock installation.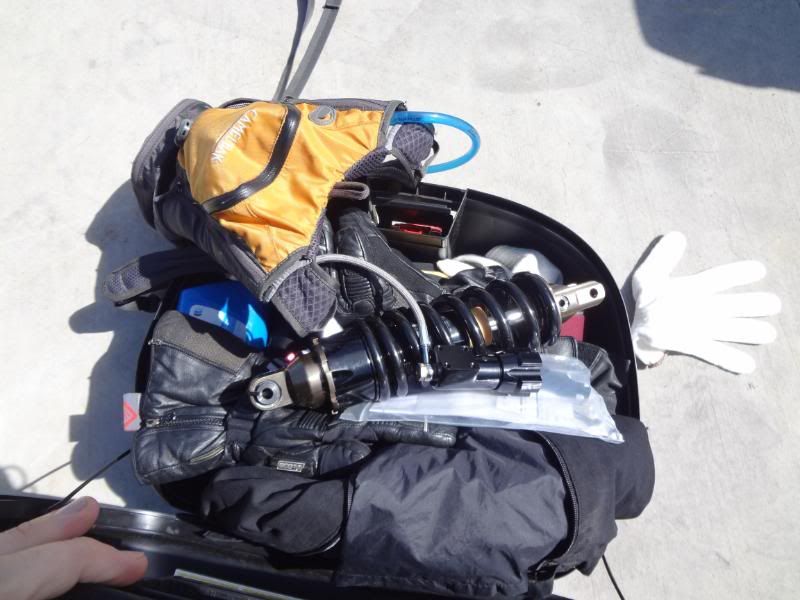 The folks at D&P were most helpful and had no problem with me replacing my shock in their lot. I was even loaned a 17mm wrench at one point. The entire shock installation probably consumed about 3 hours
The cabin at Buffalo Bistro ended what was a very intense 3 day period for me. I was actually unsure of whether my bike would hold up until I reached my new shock. Again it was proven to me that everything always works out; my bike was fixed, I had warm hands, and I had a great place (with great people) to stay for the night. I fell asleep in the bed of the cabin contemplating Austin, TX.